Why Insectkil

Professional Solution
Advanced Skills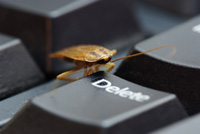 Insectil staff have taken thorough trainings in order to consolidate their knowledge and skill and keep their quality service standard at all times. Training programs cover pest control skills, the integrated management system, work practices, customer service skills, environmental management and occupational safety and health knowledge and so on.
Our technicians are required to participate in on-job trainings, tests and evaluations from time to time.
Total Solution
With insight, knowledge, expertise and experience, Insectkil provides comprehensive and total solution for every customer, whenever and wherever they need.
Insectkil provides pest control and related services to the government, commercial and residential sectors. Quality and reliable services are the foundation for our success in achieving and maintaining our status as a leading provider of pest control services.
Continual improvement
With a strong commitment to continual enhancing management and service quality, Insectkil implemented ISO 9001 quality management system, ISO 14001 environmental management system and OHSAS 18001 occupational health and safety management system in 2010. In addition, we welcome our customers comment on our services so as to meet market and customer requirements.
Strengths of Insectkil Services
Insectkil
Other pest control services
Cost-effectiveness
Take the right remedial steps to solve problems and thus save cost
Fail to solve problems
Service-effectiveness
All pesticides we apply that have been registered and approved in Hong Kong. The pesticides are long lasting and effective.
Registered pesticides are not strictly required which have a chance to contaminate human and the environment
Service guarantee
Service guarantee, technicians take follow-up actions until getting customer satisfaction
No service guarantee and no after-sales service